One Hit Wonderland: Teletubbies
Still in the top 75 best-selling songs of all-time in the UK, 'Teletubbies say "Eh-oh!"' is one of those songs that really played to two demographics in particular: stupid children under the age of ten and, by extension, their stupid parents.
Released by the BBC before anyone else could sign the four brightly-coloured puppets to do a single for them, the song managed to stay at the top of the charts for two weeks in 1997; between December 7th and 21st, the Teletubbies won the hearts and minds of a nation, knocking 'Perfect Day' off the top spot in the process. However, the festive prize proved to be a little bit off the mark, as the Spice Girls recorded their second straight Christmas number one with 'Too Much'. Oh well.
The song is based around the once-popular TV show's intro. Given that this was clearly not enough, it was shored up with two nursery rhymes: the flowers from Teletubbyland manage to knock out a solid rendition of 'Mary, Mary, Quite Contrary' while the Teletubbies hum 'Baa, Baa, Black Sheep'. Indeed, it's a rip-roaring fun-packed outing for our furry friends.
The song inexplicably claimed number 13 in the Netherlands and stayed in the Dutch Singles Chart for 13 weeks. It would be in the UK top 75 for 29 weeks, going double-platinum in the process. Thankfully, the Teletubbies would later be largely forgotten, though the BBC-created cash-cow managed to sell plenty of toys in the process.
BBC executives also showed their more unscrupulous side during the entire process, too; when Vince Brown tried to make rival single 'Tubby Anthem' for charity ChildLine, the BBC threatened legal action. It was later withdrawn. It doesn't seem like any proceeds were made to charity off the back of the song, either, though let's not forget 'Perfect Day'; that raised millions for Children in Need. Let's not hate on the broadcasting institution too much – it's simple copyright, at the very least.
Enjoy this outing from the Teletubbies. It may ultimately be bloody awful, but it got to the top for a reason, even if we don't quite know what that reason is.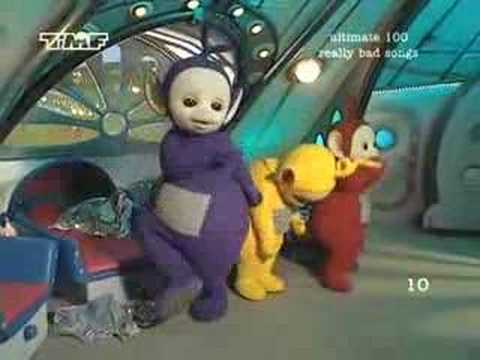 By Matt Gardner