One Hit Wonderland: Hanson
It's not hard to pretend that you can't stand this song, because it's very likely that you really hate it quite a lot. The long-haired fraternal trio – Isaac, Taylor and Zac – managed to seduce us in 1997 when their unimaginatively-titled band Hanson claimed number one pretty much everywhere with 'MMMBop'.
It spent three weeks at the top of the chart in the UK, Ireland, Austria, Canada and the US (the lattermost country replaced it with 'Bitch' by Meredith Brooks in the Top 40), as well as four weeks in Switzerland and the minimum of a week in Germany, Sweden, New Zealand and Mexico.
Australia, the mad bastards, somehow kept it at number one for nine weeks. Imagine living there in the winter of 1997 – you'd've probably shot yourself. It wasn't until Puff Daddy, Faith Evans and 112 released 'I'll Be Missing You' in honour of Notorious B.I.G. that Hanson would be knocked off the top spot in most of these territories. Can you imagine how long the devastation could have continued without it?
'MMMBop' is apparently about losing friends in a heartbeat or, as they like to call the short timespan, an MMMBop. It's easy to assume that the reason they chose this word was because they weren't that adept at writing choruses, so instead attempted a slow Scatman John-style approach or, failing that, a Two Princes-esque free-fill.
Still, it had a cultural impact like very few songs at the time. What's more, The Dust Brothers – yeah, those fellas who produced the Fight Club soundtrack, Bridges to Babylon by The Rolling Stones and Tenacious D's self-titled debut – were behind it. Not a bad team, all-in-all.
'MMMBop' has since been used by two schools in the US, harnessing its headache-inducing happiness as a means of raising money for charity in an initiative called "Stop the Bop/Stop MMMBop". During this drive, they played it before and after every class and during lunchtimes. They've never had students empty their little pockets so quickly.
Additionally, House, from House, uses it to know when his colleagues are calling him, essentially to add to his burning hatred of anyone by power of association alone. Excellent.
So come on guys and girls, remember to hold the close friends tightly, otherwise you might lose them. Or something. Let Hanson show you their message.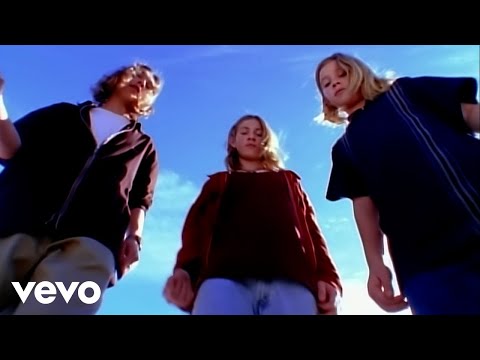 By Matt Gardner