Music Videodrome: This Too Shall Pass (OK Go, 2010)
It was only a matter of time before OK Go featured on Music Videodrome, but it seemed like a bit of an obvious choice to go for. What's more, it's nigh-on impossible to choose their best video to date; the running joke with the band is that they enhance their average songs with great videos to make a good overall performance. Hell, there's even a study in Time Magazine about it.
Sadly, it's a bit of a poorly-judged comment from Time and its friends. While yes, the songs may be less amazing than the videos, they're still excellent tunes – even if you need the videos to be appreciative of their work. Still, as clever quasi-directors, OK Go nail it. It's always a shame to see a perfectly legitimate band get knocked for such a poor reason.
Anyway, 'This Too Shall Pass' has got the crown for best video so far. While other offerings have really impressed – whether it's treadmill-debut 'Here It Goes Again', one-shot excellence in 'End Love' or the drag shots of 'WTF?' – it's this video that really blows the viewer's mind.
Funded by State Farm, the song gets the Rube Goldberg treatment. From a toy car to the final paintball gun moment, it's a cavalcade of needless actions that create one of the best videos of all time. It's a little similar to the famous Honda Accord advert, though much more… personal. Both necessary and pointless things are triggered by the machine, though it does a great job of entertaining the viewer but also remind them that it's OK Go that's behind the whole thing.
There are a few highlights, though one stands out in terms of timing (even if it's early enough to choreograph with greater ease (which is a shit criticism, to be fair. It's been seen around the interwebs, though): the spoons-and-glasses moment. Absolutely genius.
Whatever you do, don't overlook this video. While other OK Go videos will undoubtedly be sold to the new viewer after seeing this, it's 'This Too Shall Pass' that really opens your eyes. Check it out. It's just… excellent. That's the only way you can really put it, really.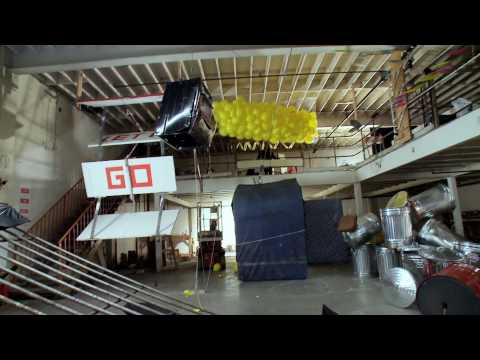 By Matt Gardner