Music Videodrome: Buddy Holly (Weezer, 1994)
'Buddy Holly', a song that Weezer nearly decided to axe from the album due to its pop-rock approach, ended up being one of their biggest hits. While the tune is truly brilliant, it would be the video, directed by Spike Jonze, which would be absolutely mind-blowing.
Filmed with cutting-edge computer trickery by the director of this year's 'Don't Play No Game That I Can't Win', 'Buddy Holly' splices the band members into Arnold's Drive-In from Happy Days. Using clips from the show as well as Happy Days cast member Al Molinaro, the video even has a tongue-in-cheek commercial break. The climactic moment even uses heavy editing and a body double to have The Fonz dancing to the song.
The wheels nearly fell off, however, when actor Anson Williams – Potsie on Happy Days – registered his objections to footage of him appearing in Weezer's video, but changed his mind after David Geffen, founder of Geffen Records, sent him a letter. It's not known whether it was pleading, demanding or threatening, though it worked. Thankfully.
The video's ultimate success was boosted by two major factors. The first was MTV's former eye for spotting talent; the station gave 'Buddy Holly' heavy rotation for months and continues to put it on every now and again. It also went on to give it four awards at the 1995 MTV Video Music Awards, including Best Alternative Video and Breakthrough Video. Secondly was the influence of Microsoft, which included the video on its package of "Fun Stuff" for Windows 95. In more recent years, the music video was granted entry into the Museum of Modern Art's music exhibit.
If you haven't seen it, you simply can't miss it. Have some fun with Weezer, the Happy Days cast and Spike Jonze: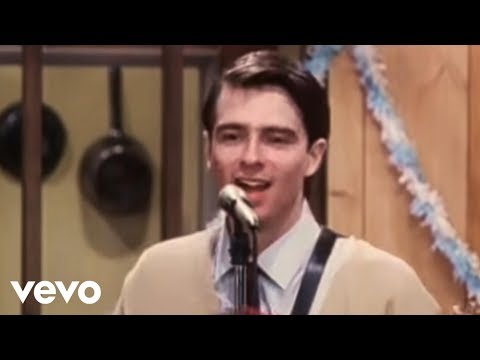 By Matt Gardner