Music Videodrome: Bad Romance (Lady Gaga, 2009)
'Bad Romance' was a phenomenal hit. Despite Lady Gaga already hitting the top spot around the world with 'Just Dance', 'Poker Face' and 'Paparazzi', this sixth single would net the most number ones she'd ever had, as well as a bag full of multi-platinum awards.
Austria, Bulgaria, Canada, Czech Republic, Denmark, Finland, France, Germany, Hungary, Ireland, Italy, Norway, Romania, Slovakia, Spain, Sweden and the UK all loved it so much that it shot to their respective number ones; curiously, it didn't get the coveted top spot in the US Billboard charts, though was 4 x platinum (second only to Canada, where it was to the power of seven). It was, however, the video that really turned heads.
In 2010, the video received ten nominations at the 2010 MTV Video Music Awards – tying only 'Sledgehammer' by Peter Gabriel for most shortlists in a year. The categories she was sorted into included Best Cinematography, Best Editing, Best Art Direction, Best Special Effects, Best Choreography, Best Direction, Best Dance Video, Best Pop Video, Best Female Video and Video of the Year. It won seven of them, and later got the Grammy Award for Best Short Form Music Video.
Its success, however, primarily lies in its YouTube performance. With over 425 million views and counting, it has even outdone the infamous "Charlie Bit My Finger" recording by 40-ish million (not counting the many reposts of the video). The music video has Gaga stuck inside a white bathhouse before she's kidnapped by supermodels, drugged and sold to the Russian Mafia as a sex slave. There's no way you can keep the girl down, though – Gaga ends up killing the man who bought her. She burns him to a crisp, no less, celebrating by shooting fireworks out of her breasts. As you do.
The artistic treatment of the subject, as well as the heavy symbolism, won over fans and critics alike (even though the song was about falling in love with a best friend). Despite the crazy special effects for her eyes, the razorblade sunglasses, her evil Alexander McQueen 12″ heels and unsurprisingly mind-bending costumes (including an entire polar bear pelt), it's probably the most attractive that Lady Gaga's ever been in a video. While she's not a traditionally-attractive popstar, it's impossible to say that she turned out less than utterly beautiful in 'Bad Romance', particularly in the moments featuring close-ups of her made-under face. What's more, there's not a single dance move that goes amiss, nor does it overdo the product placement; it does try, though.
Ultimately, the video's director Francis Lawrence – that bloke who did Justin Timberlake's 'Cry Me a River' and 'Rock Your Body', 'Warning' by both Green Day and Incubus, 'I'm a Slave 4 U' by Britney Spears as well as I Am Legend and Constantine – again affirmed his career choice (though naturally, we'll ignore the final two offerings on that list). And Lady Gaga? Well, she never seems to stop getting better.
So, in all its glory, here's 'Bad Romance'. You'll enjoy it, even if it's one of the weirdest videos going.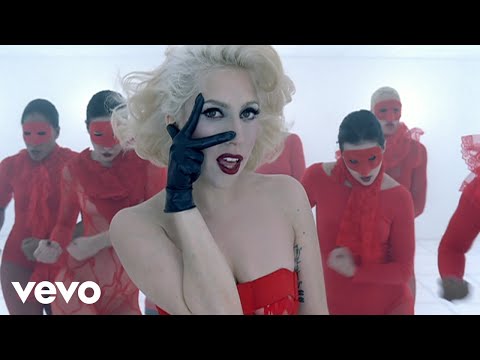 By Matt Gardner